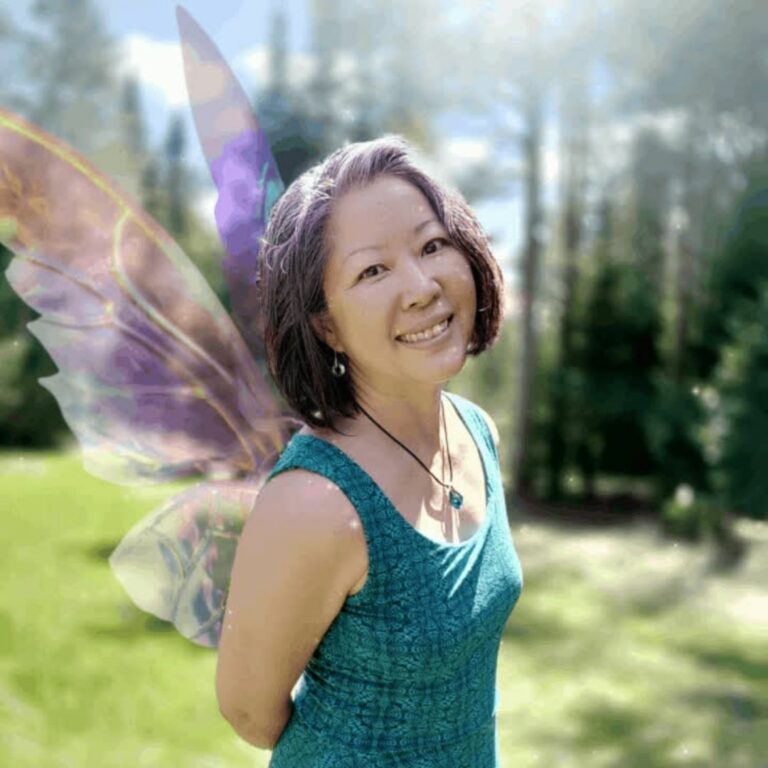 I went through a period of burnout that led to fibromyalgia and chronic fatigue syndrome. At my lowest point, I battled depression and even contemplated suicide. Surprisingly, I wouldn't trade that experience for anything in the world.
Being sick opened my heart to the suffering of others, igniting a profound sense of compassion within me. Determined to heal, I immersed myself in a journey of nutrition, emotional well-being, and spiritual growth. In just two years, I managed to heal myself and embarked on a mission to share the wisdom I had gained, helping others on their healing journeys.
During this process, I discovered a beautiful community of people who, like me, were Sensitive Souls navigating similar challenges.
I wrote my first #1 bestselling book, Guide to Healing Chronic Pain – a Holistic Approach, to help others suffering from fibromyalgia and pain disorders. I was featured on Biography TV and PBS's Discoveries in Alternate Medicine. In 2016 I launched onto the global telesummit stage as an entity clearing and Light Medicine expert.
I've since published five #1 international bestsellers including my popular signature book, Sensitivity Is Your Superpower, and am featured in the movie The INside Effects, and the docu-series, Electric YOUniverse.
My TOLPAKAN™ Healing Method helps sensitive souls harness their intuitive, healing, and manifesting Superpowers. It combines quantum physics and the spirituality of a modern mystery school. Working with me is like being tapped into a spiritual supercomputer and I am sort of like Yoda® from Star Wars®, training you to be a Jedi® Master in your own healing. 
This book is the first #1 bestselling book of its kind that addressed the symptom of physical pain from an integrated perspective of mind-body-spirit wellness. You learn what the different kinds of pain symptoms are, quick non-invasive, non-drug symptom relief tools, nutritional interventions, emotional clearing techniques as well as spiritual healing exercises. Learn more HERE.
Through a series of "supernatural" events and synchronicities, I discovered that my mother and I are earth angels, that is, an angelic soul incarnated in a human body. Not only that, my "past life" soul as a high level healer from Lemuria has merged with a Light Being soul, making me a multi-souled being with an incredibly challenging yet rewarding Soul Mission. When I was in Lemuria, I was tasked with attuning the entire Earth with healing frequencies originally from the Archangels using very special crystals. During that lifetime, I was unable to complete my mission and thus have reincarnated as a human in this lifetime to continue it. As of 2017, approximately 95% of all humans on the planet have been attuned to these frequencies, thanks to the assistance of the Ascension process making it easier than ever before. Since then, these healing frequencies have evolved to include Light Being healing frequencies among others, and continues to evolve at a very rapid pace. Through humanity's innate creative and imaginative gifts, we are now able to heal multiple lives through multiple dimensions with increasing speed than ever before. That's why it is possible for myself and my students to "move" or "dissipate" a hurricane – we call that Weather Magic. When I spoke to the Archangels years ago, I was told that it was my Divine Path to create a new healing modality using these frequencies. Derived from the word, Tulpa, a concept in mysticism where by something is created through spiritual or mental powers, but reflected in a positive light and spelled TOLPA, the angels insisted that I use KAN to name this new healing method (most likely because I vehemently protested because I did not want to be perceived as egotistical). Thus the name, TOLPAKAN™ Healing Method, also called "TKH" was born.
Through the TOLPAKAN™ Healing Method, my clients, students and I can align with Source, ask the right questions, and activate the precise healing frequencies we need to support healing on a deep level. At the most intensive level, I work with clients one on one in my transformational VIP Programs, where we do healing and training, and they study and learn what is necessary for 360 degrees of healing and abundance.
My TOLPAKAN™ Healing Level 1 Training invites students to learn the 3-step method to heal themselves and their loved ones with speed, power and precision. Once graduated from Level 1, trainees can apply for an interview to be accepted into the TOLPAKAN™ Healing Level 2 Practitioner Certification Program to become a healing professional. This 6 month program involves three phases: Modality Magic, Practitioner Potential, and Marketing Mastery with 15 modules in total as well as small group training, mentoring and coaching. The goal of this comprehensive program is to evolve each practitioner to a high level of competency in TKH as well as teach them positive sustainable life skills to experience 360 degrees of abundance including a 6-figure income while helping people.
I also have many self-healing, self-paced online programs:
Sensitive Soul SOS Program is a foundational program for highly sensitive people in crisis who need quick symptom relief from anxiety and overwhelm and is highly recommended for people who are fairly new to energy work or who need to understand why they are suffering.
Light Warrior Bootcamp 2.0 trains you to be able to clear negative energies and entities (ghosts, demons etc.) from yourself, your loved ones, your home, your property, your electronics and your sleep realms with ease and speed. If you are plagued by entities, this is the one for you.
The Light Warrior Advanced Healing Program is a comprehensive program to help Indigos, Starseeds, Earth Angels, Empaths, Hybrids and Walk-ins heal their blueprints and rewire their energetic physiology to create greater health and better boundaries.
The Unlock Your Superpowers Program – the 7R's Formula for Masterful Manifesting is a training/healing program that helps you "flex" your manifesting muscles while overcoming the blocks preventing abundance. The skills learned in this program are life-long skills that will assist you until the end of your days.
The Supercharge Your Healing Powers are online recordings of the live event of the same name where you learn how to do remote Healing by Proxy-Prop, Weather Magic, move matter with your mind, change your DNA, extract your Soul Mission and Soul Experience Template and more!
I graduated Magna Cum Laude from the University of Ottawa School of Medicine, Canada, and became board certified in Family Medicine in both Canada and USA. At the University of Ottawa, I experienced month-long intensives in acupuncture and clinical hypnosis during her residency training.

I have worked for several medically under-served communities in New York and California and has also been an Assistant Professor at the Santa Monica-UCLA Family Residency Program teaching medical students and residents. While at UCLA, I was co-chair of the Evidence-based Medicine curriculum.

My formal acupuncture training was completed with the UCLA Medical Acupuncture for Physicians in 2000. I became Emotion Code and Body Code certified in 2014 and 2016 respectively. In 2016 I founded the TOLPAKAN™ Healing Method, and later, the Academy of Light Medicine.

Mentoring and teaching has always been my greatest joy. I mentor and train sensitive souls from around the world on how to harness their Superpowers.
People that know me, especially on Facebook, are often incredulous that I can do so much. I have to admit, I'm quite the Do'er. But in recent years, I've realized the importance of BE-ing – a much quicker and faster way to manifest more of what I want and less of what I don't want. Busy people need ways of access stillness while still accomplishing all they wish to accomplish. This need birthed a technique I call STOIM™ – Stillness Through Observing Internal Movement and it's associated Stillness-on-the-Fly™.

When I'm not "saving the world" (he he), working with clients or training my students, I'm doing competitive adult figure skating in singles, pairs and ice dance with my husband who I "recruited" through harnessing the Law of Attraction. My husband and I are also West African drummers and we perform with a dance troupe, Soma Beats, for celebrations, weddings and community gatherings. I am also a Wing Chun martial arts student (my husband is the instructor), and a big fan of supernatural and superhero movies. Not that long ago we adopted a rescue Smooth Fox Terrier/Jack Russell dog that I named Apache, and he is my little "baby". I wasn't able to bear children in this lifetime, but I fully understand why given my big responsibilities. Nevertheless I have Gen X and Millennial "kids" that I enjoy mentoring, hoping to build worldwide Harness Your Superpowers Training Camps for younger generations to come. They are my inspiration!
You know who you are, what your Soul's Mission is, and what's Divinely Aligned for you.
You know how to connect to Source, ask the right questions, and get the best answers.
You get deeply connected to Your Being, to Source, as well as the Light Warrior community
Here's what others are saying:
Dr. Karen Kan is a true healer. When I first met Dr. Kan in 2014, I had no idea what I was in for, or how profound the changes in my life that were to take place because of our meeting. Karen holds mastery in a basketful of healing modalities within her field, and over the past two year of knowing her, I have witnessed her bridge gaps of multiple fields of healing, both medical and spiritual, in order to provide care that is uniquely suited to each person she helps, myself included.
~ Oliver
My husband and I used to have robotic, disconnected conversations as he would drop off the kids.. And now after diligently using Dr. Karen's healing products, we are getting along so well now that I introduce him as my new boyfriend! There is such a difference in energy with him, with me... we are like two different people! We are so in love, and so much better at handling things/issues together.
~ Missy
If Source needs someone to understand "why" they have their dis-eases, Dr. Karen is an expert in finding answers. It never ceases to amaze me what Dr. Karen discovers through her specialized investigations to help her patients see through their pain and suffering. She is truly amazing!
~ Jenny Ngo, RN, MSN, Transformational Energy Healer/Catalyst, Coach, Energy Intuitive, & Entity Clearing specialist
I felt so much better the next day - pain free, peaceful and contemplative. Words can't express my gratitude. If you have issues with autoimmunity, I highly recommend getting a session with Dr. Karen – she's awesome!
~ Retta
After meeting Dr. Karen, it was clear that her Source-directed healing is extremely powerful (one time it felt as if she was healing a whole country!). In fact I told her that her vibration was so high that it was impossible for an entity to attach to her. There aren't too many healers I've met that I can say that about. I trust Dr. Karen and her healing products and so can you.
~ Diana Kushenbach, Founder of the Diana Kushenbach Academy of Spiritual Arts PoliceIntuitive.com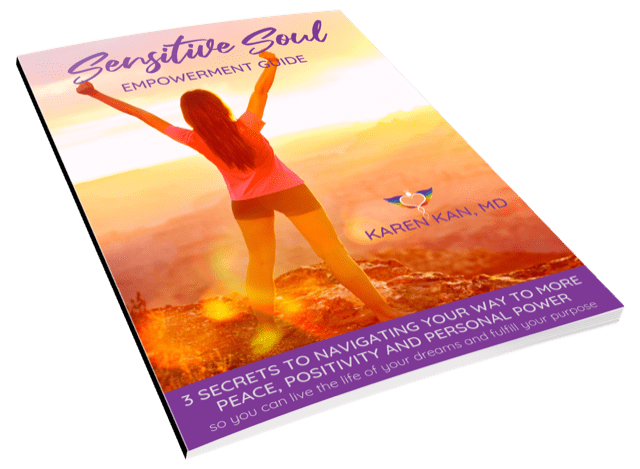 Download Your FREE Sensitive Soul Empowerment Guide!
3 Secrets to Navigating Your Way to More Peace, Positivity, and Personal Power so you can live the life of your dreams and fulfill your purpose.